An extremely beautiful song about death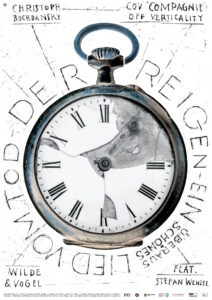 Inviting, brisk, grinning, playing music and dancing grotesquely, this is how Death is shown as a skeleton in the medieval Danse Macabre. Opposite of him – the human being: wondering, hesitating, persisting in a gesture. Many variations of the Danse Macabre have since formed the artistic examination of human beings with Death, but in the end all concepts mirror the inconceivability of the moment: our own meeting with Death.
Artists from different genres, cultures and generations are sharing their conceptions, fears and strategies to live with certainty of death. In a merry-go-round of pictures, movements, words and sounds, this same recurrent moment is played through in different modes: "mysterious", "maestoso", "in soft tones", "melancholy", "excited, frivolous, swinging" are the performing instructions.
And … in the end we can witness an immortality: bawdy Punch and longing-to-die Pierrot show us, how Death can be outwited.
Choreography: Rose Breuss
Performance, Puppets, Stage: Christoph Bochdansky, Michael Vogel
Dance: Kai Chun Chuang, Damian Cortes Alberti, Marcela Lopez Morales
Live-Music: Protect Laika (Stefan Wenzel, Charlotte Wilde)
Advice mask scenes: Björn Leese, Michael Vogel
Christoph Bochdansky (Wien), COV Compagnie Off Verticality (Linz) and Figurentheater Wilde & Vogel (Leipzig), co-production with Westflügel Leipzig.
Supported by Stadt Leipzig and Kulturstiftung des Freistaats Sachsen, Maßnahme mitfinanziert durch Steuermittel auf der Grundlage des vom Sächsischen Landtag beschlossenen Haushalts.
(photos Dana Ersing, J. Kressin)
Interested? Any questions?